Full Service Premium Wedding Florals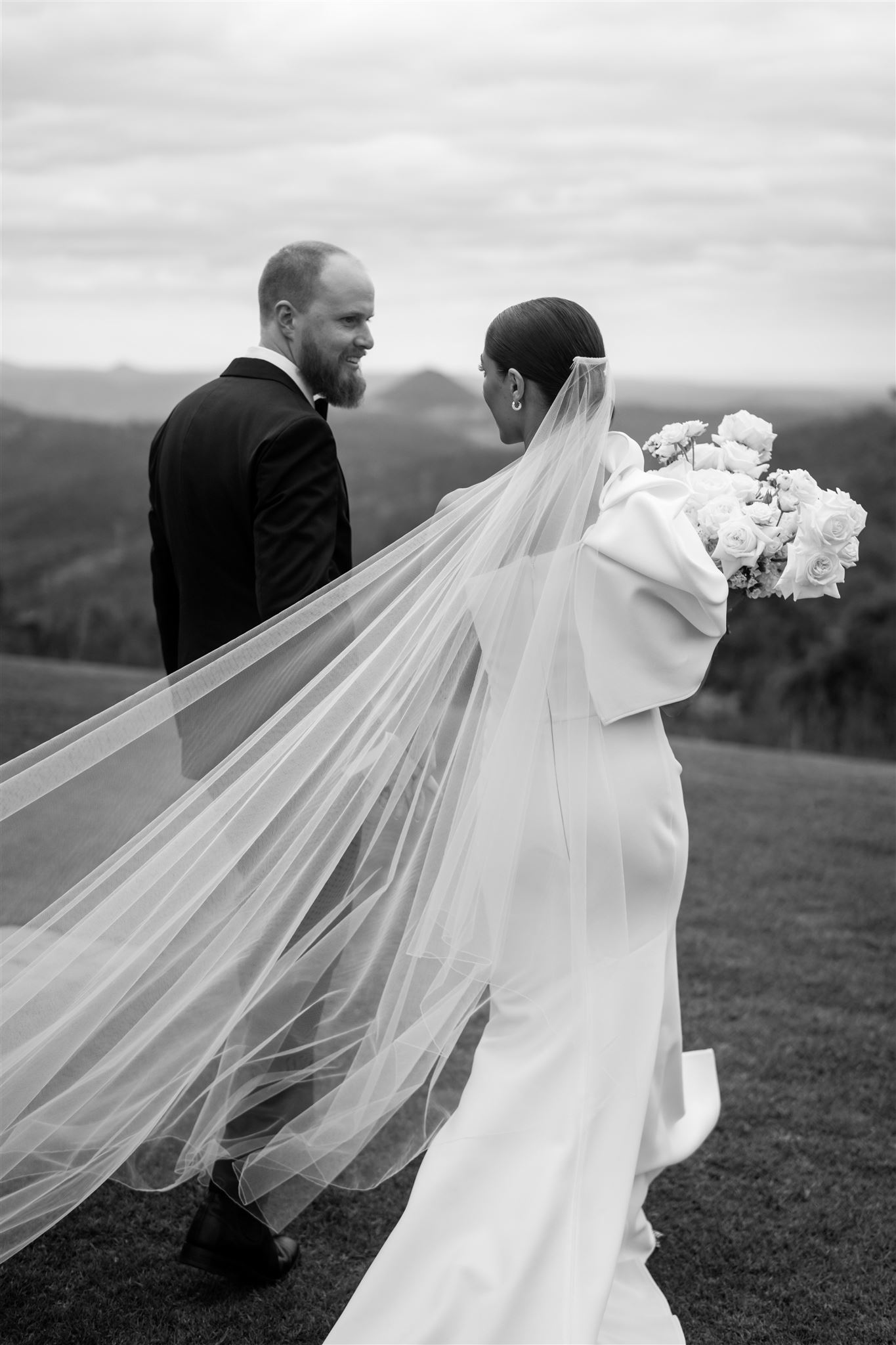 Looking for expert advice + beautiful designs .... you've come to the right place. 
Our Design Philosophy?
Less is More.  We're advocates for focusing on a few, bigger impact pieces.  Let's make the most of your budget, stick to that budget, and create a real 'wow factor' for the day.  
Relaxed and Easy
We know how overwhelming planning a wedding can be and we're here to help guide the way.  Our style is loose and laid back.  Our bouquets feature a mix of textures and tones.
Mother Nature Knows
There are so many beautiful blooms during every season, so stay open-minded about specific flowers used on the big day.  We focus on highlighting the best of what Mother Nature has to offer. 
How does our Full Service Premium Wedding Florals  Work? 
1.  Consultation Q&A
Firstly,  we love to connect.  After we have confirmed your date is free (from our Wedding Florals Enquiry Form) .. we will email a get-to-know-you questionnaire, asking key questions about your priorities for the big day.  From there it's onto design!
2.  Design Recommendation
We'll follow up with a design recommendation outlining options that best suit your budget, priorities and venue chosen.  
3.  Planning Session
Six weeks prior to the day we'll meet (in person or via Zoom) to run through all the details, review any changes to logistics and finalise your design plan.
4. Your Wedding Day
Don't stress and enjoy the day! Our team has all the details covered and will be on-site managing the setup.
FAQ's
How far in advance do I need to book?
We suggest a minimum of 6-12 months but we can easily work within a shorter planning timeframe.
It's a 20% non-refundable deposit to lock in the date as we create a limited number of weddings each weekend.
After your deposit is paid we can easily sort through changes and revisions to the order details, nothing needs to be firmly set in stone until 6 weeks prior to your wedding day.
Are some flowers only available during some months of the year?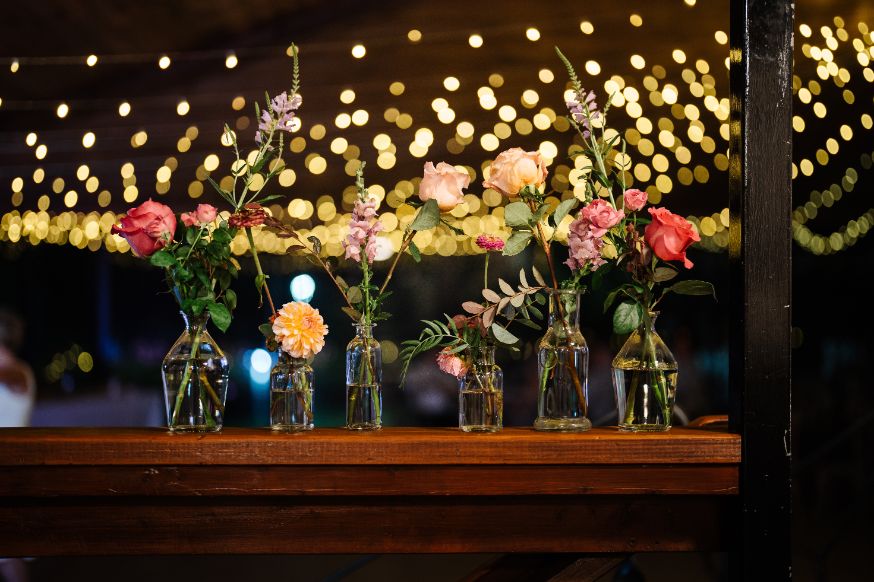 Yes, we are at the mercy of Mother Nature and weather conditions have a significant impact on availability of flowers. 
For example, Peonies are only available for a few weeks in mid-Spring (most often November) but the specific availability often changes from year to year, depending on how cold the winter has been and how wet the early weeks of spring are.
We've compiled a quick snapshot of our favourite blooms per season here .... Fav Wedding Blooms
Do you offer wedding packages?
Yes! We know some brides prefer simplicity - so we've created a simple wedding flower solution to choose your bouquets, buttonholes from our online menu.  CHECK OUT OUR ONLINE PACKAGE SOLUTION  to answer all your questions regarding our wedding packages. 
Do you offer hire items or do I need to supply my own vases?
We do offer a range of hire items – vases, ceremony archways/circlet, table numbers etc.  
If you are looking for a long list of hire items, we recommend partnering with Pretty Little Events, All Perfectly Planned or Toowoomba White Weddings. 
How much do wedding flowers usually cost?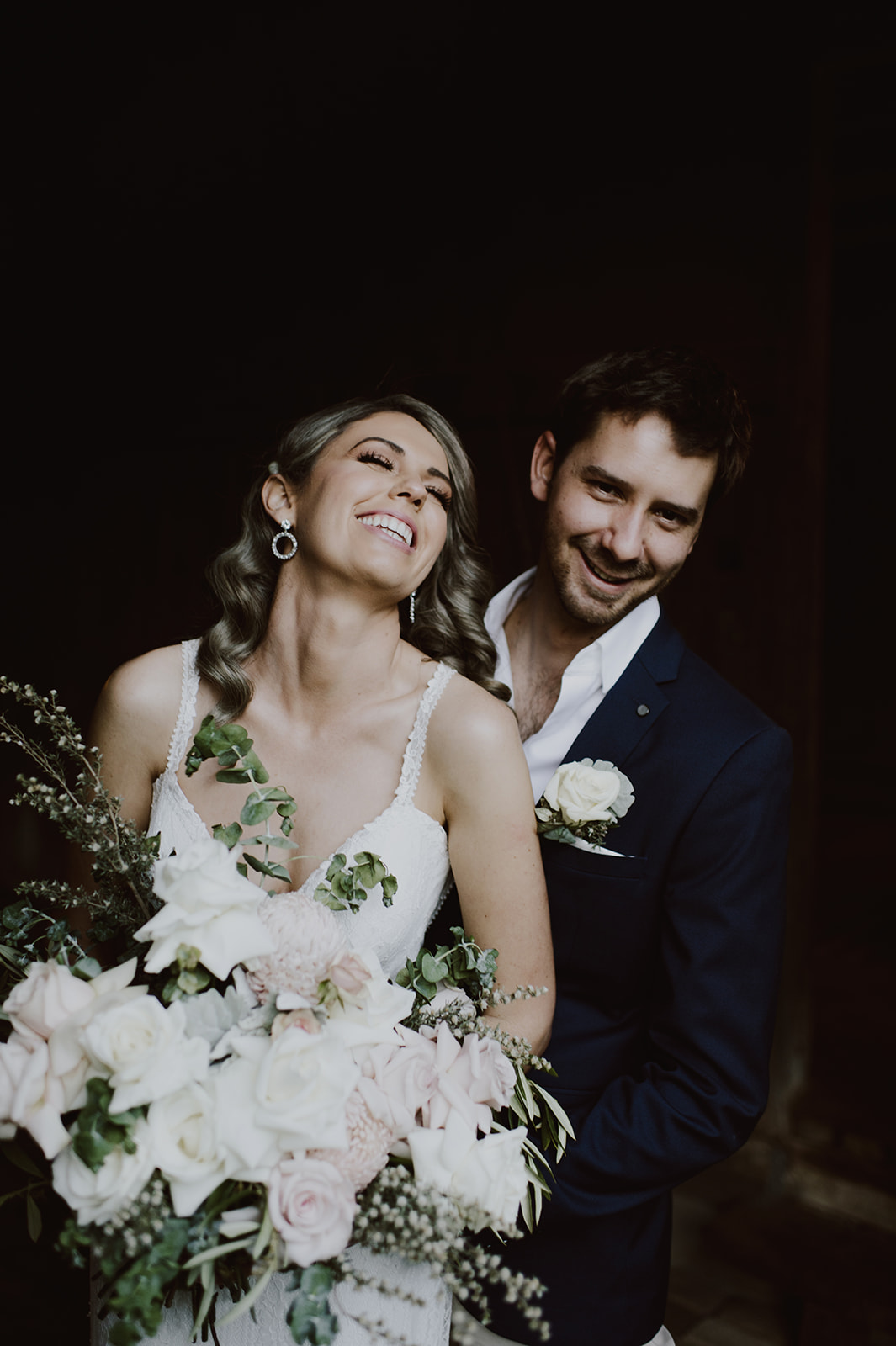 There is a lot of variability when it comes to wedding flower prices. Most of our Full Service Wedding couples spend between $2500 – $7000 on their wedding flowers.
We suggest 10-15% of your total wedding budget but if you want florals to be a significant component of the experience for the day.
Where are you located?
Our design team is based in Toowoomba, QLD.
We coordinate flowers for couples getting married all across the Downs.
I live interstate / overseas. Is that a problem?
No, not at all. We manage all of our communication online – if you're overseas we can easily coordinate over Zoom or manage everything over email.
Do I need a theme or vision for my day?
No, not at all.
We do suggest though that you do a little research about the types of flowers and designs you like – everyone's tastes are different and there are hundreds of options when it comes to wedding flower design. Even one or two inspiration photos can point us all in the right direction.
You don't need to have thought through every detail. We've managed more than 180 weddings and know our local venues incredibly well. We're always happy to provide suggestions and options for ceremony and reception styling ideas as well.
Will you deliver my flowers on the day?
Absolutely, we'll deliver all your flowers personally. We'll coordinate the time and location with you during the planning process.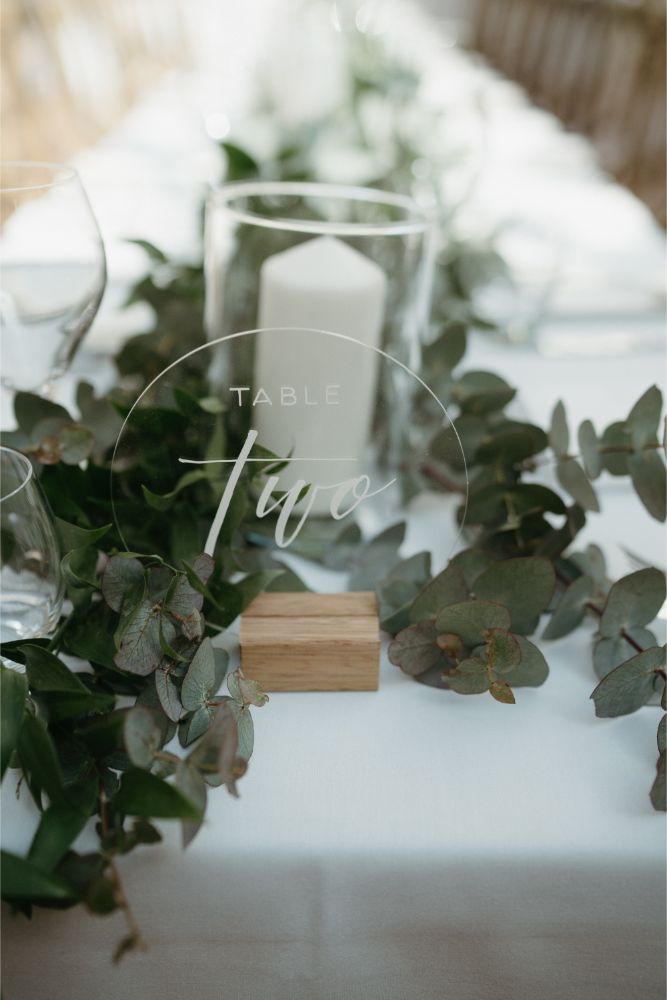 Is there a minimum budget or spend?
We have a $1000 minimum for our full service weddings, and no minimum for our online packages. 
How do I organise a consultation? 
The first step is to submit an initial enquiry – we will then confirm whether your date is available.  We will reply within 24-48 hours of your initial enquiry. 
From there, we will send you an online questionnaire as the first phase of our consultation process.   We will reply within 24-48 hours of your online questionnaire. 
Flat lay foliage
All those beautifully styled photos of delicate foliage strewn 'just so' on a table – I know it's got you dreaming of creating a similar effect for your date. And my guess is you're assuming it's a cheaper alternative to flowers.
Hate to burst your bubble, but a few things to know about flat lay foliage:
most of the images you see on Pinterest are heavily styled photoshoots and not easily replicable in real life

the photos are often done in America. The foliage readily available in Australia is quite different. In fact there is only one type of foliage we recommend: fancy Italian Ruscus.

creating the same effect as those photos is REALLY EXPENSIVE because it's (1) time consuming, (2) uses a lot of foliage and (3) the foliage is expensive.

to give you an idea of $$$: let's assume you have 90 guests, to be seated at 3 banquet tables. Each table seats 30 guests, measuring 9 meters in length. you want to run foliage from one end to the other. To do that, we need to allow about $330 in foliage for each table x 3 tables = $990 in foliage alone. Allowing 1 person 1 hour to do the set-up brings the total up to more than $1100.

that's a lot of money to spend on something that will not feature in any of your favourite photographs and end up in the bin at the end of the night.
Our recommendation is to go with something really simple and stunning.
An abundance of candles – reinforces the romantic vibe of the evening. Oh and when we say abundance, we mean like 200 tea lights or 80 pillar candles and 120 tea lights. It's beautiful! 

Delicate bud vases scattered down the centre of each banquet table – featuring a mix of premium blooms coordinating with the colour palette of your other florals. The best bit is your guests can take the flowers home at the end of the night! 

Simple, elegant table arrangements strategically placed.
However, if you have your heart set on flat lay, or full garlands, we have created many and are here to serve you on your day.   Want to know more, simply fill out our initial enquiry form above and we will get back to you within 24 hours with available.